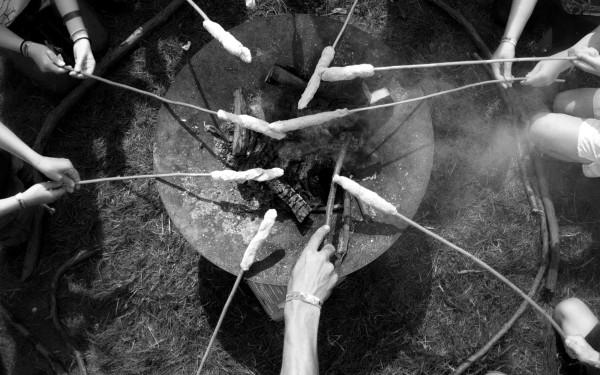 Fire Philosophy 
We have put together a few thoughts and activities relating to fire, the outdoors, play and aesthetics. We hope to show some of the benefits of  being in nature with a fire. If you have any thoughts or would like to contribute please email George at george@firewok.co.uk 
Connection With Forest Schools
We love the forest school ethos, it resonates strongly with our own. We think that it is incredibly important for children to have real life experiences in the rich environment of nature. We hope that teaching children and adults how to make a fire and cook on it can be an empowering experience. We also hope that it helps to emphasise the idea of biophilia and the need to look after and maintain the beautiful world around us.
We recommend:
Please get in touch if you run a forest school, we would love to hear from you.
The Firewok Design
Our design ethos is to keep things simple, locally made and long lasting.
We believe the Firewok is great because it just works, it's modest design makes it simple to use. It is not trying to be the latest BBQ with fancy gadgets because it doesn't need to be. 
Setup Anywhere
Our Firewoks are made to be portable, they are easy to carry with our new handle or our bag. The three legs easily screw off  so you can comfortably pack it away in the boot of a car, campervan or cupboard. It is raised of the ground so you won't burn the grass underneath. These design features make the Firewok highly versatile and means you can have a fire wherever you like.
Built to last
Our stainless steel Firewoks will last a fifetime, and we offer free repairs if anything should go wrong, (such as the one Sue ran over in her caravan. Fixed now and fully working!).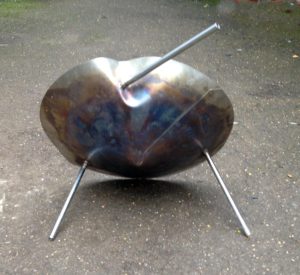 The black steel Firework develops its own rustic patina bearing evidence of its use and making each one unique. This processes is built into the design and we make our Firewoks 1.6mm thick to leave plenty of room to build up texture. We believe the beautiful marks of their use should be appreciated and not hidden, much like the thinking behind Wabi Sabi.
We don't paint our Firewoks because they will inevitably scratch and  rust anyway, instead we celebrate that process and allow it room to happen. Our Firewoks will last 10 years with good care and the stainless steel version much longer.
Made for sharing
Using the Firewok to make a camp cook up is fantastic and fun for everyone! Our range of cooking accessories developed naturally as we used ours to cook with. We now have everything you might need to turn a firewok into a barbeque. Our accessories are designed with the same ethos, keeping things simple, ethical and long lasting.